A VO Demo Check List for begginers!
In competitive times, Voice Over Talent Rates get juicy. To get there, you need good stuff to start with. That's where Voice Over Demo production is a "must". As a Spanish Voice Over Talent, I had to go all the way around it in New York and the US. Let's go over a checklist.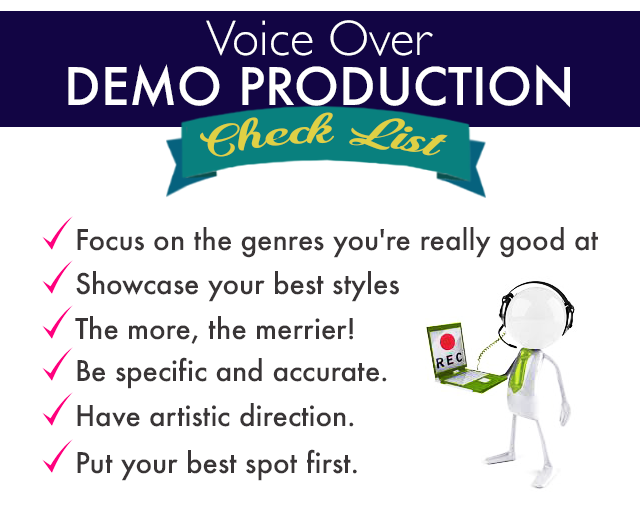 WHAT IS A VOICE OVER DEMO?
A demo is your business card. Many times agents do not bother to read your elaborate email. So go straight to your demo. When a client wants a talent for his piece, be it radio, commercial, web, audiobook, etc., what he is looking for is not a resume. He wants "a sound" that is attractive to him. A sound that transmits the personality of what he is looking for.
It is very important to elaborate your brand conscientiously. Sound different and nice. So your demo should be very clear. It should highlight your strengths and not your weaknesses. It should have a professional sound, excellent editing and mixing.
Nowadays we use the format of 60secs or less in Voice Over Demo Production. Each category must be separated. Because if a client wants to see your commercial voice, the last thing they want is to hear your narration or animation voice.
It may be a bit confusing or difficult to choose the order or duration of each shot. No worries, let's talk a little about it.
WHAT SHOULD A VOICE OVER DEMO INCLUDE?
Undoubtedly, only go for what you feel comfortable working with. What you are willing to sell actively in the market. Do not try to do more than you are really capable of. We all have specialties. So, my advice is to focus first on the genres you're really good at.
If you're planning to record a Demo means that you already went through several coaching lessons. Know what comes easier for you, and be ready to showcase your best styles.
It is not cool to Name a Demo "Neutral Latin American Spanish" if you're not even a Spanish Voice Over Talent. Even worse, not being able to speak fluently and Neutral. You'd be basically lying. Try to think as a customer who's going over many profiles trying to find the match for his brand. Would you like to have to go over a bunch of talents whose sound is way far from what they claim to be?
As I mentioned in my Blog "8 Tips to Become a Great Spanish Voice Over Talent", you can check the nominees and winners in the Voice Arts Awards site. In there you'll have an overview of a professional Voice Over Demo.
Promotion is easier and cheaper nowadays. The demo is mainly hosted online. Nevertheless, it wouldn't hurt to carry a few hard copies with you to give away whenever you consider it as a good shot.
HOW MANY DEMOS SHOULD YOU HAVE?
The more, the merrier!
I know Voice Over Demo Production is a budget-related topic. But give prority to the most important one. Make some with your own equipment or with your favorite studio people. Organize them by the style of reading and application, multiple bite-sized demos set prospective jobs and simply increase your chances to get hired.
If you are a Spanish Voice Over Talent, it is a plus to have a Neutral Spanish demo and Spanish with accent. Even as an English with Latin Accent. Or if it's the case, include other accents you feel comfortable with.
Actually P2P sites give priority to talents that have an actual demo in their profiles related to the services they offer, rather than just state it. So explore the sub-genres of your voice and genre. Be as specific and accurate as you can. Make your client's search easier and have your voice over samples organized in short 60-second snippets. To name them, use words that describe exactly what it includes.
Example:
If you specialize in Commercial, ideally should have a demo for each Variation / Style you read.
– Commercial – English with Latin Accent
– Commercial – Conversational Young Adult
– Hard Sale – Middle Aged
If you want to be more specific, you could add Female Spanish Voice Over Artist to your description, but I do not recommend putting it in the name of the File. Be short and Shap: Ex. CommercialSpanish_JohnR.
Show the creativity and variety of interpretations. Make your clients get confidence in your ability to fluctuate in your performance and deliver exactly what they need. Again, that's why a Voice Over Coach is so important. Because they push your boundaries.
But let's say that you are very talented in different areas of the Voce Over and want to put everything together…
As sad as it sounds, clients have no time to listen to all you offer. So putting all together as little bites of character work, narration, corporate work, commercials in a montage longer than 60secs, won't guarantee you're going to be listened to. Please, be mindful with your Voice Over Demo Production on that format.
WHERE SHOULD YOU RECORD IT?
As long as you count on your own Professional Voice Over Equipment, your demo should be recorded in a Professional Studio. And don't forget that once a potential client listens to your high-end demo, he is expecting the same production quality in the piece you record for him. Means that a Voice Over Demo does not only showcase your Voice.  Must show the quality of the audio that you deliver.
Unless you have the money and time to spend going to a professional studio every time you have an audition or sample to send, you may have to learn some basic production skills. But for your very first Demo, I'd suggest having a professional to assist you so you can rely on your performing skills during the recording session. And most important, have an artistic direction to assure the quality of your Voice Over Demo.
WHAT WILL YOU INCLUDE IN A VOICE OVER DEMO PRODUCTION?
This is the idea of structure for a Standard 60-Second Demo, mostly Commercial, which should contain 5 spots, between 5 to 15 seconds:
Slate: is an introductory Monologue, 5-second long, that includes your name and the subject.
Spot 1: 15 seconds
Spot 2: 15 seconds
Spot 3: 10 seconds
Spot 4: 10 seconds
Spot 5: 5 seconds
*Optional: Closing with your contact information and your website): 5 seconds
*Optional: Fade Out music 5 to 8 seconds
Put your best spot first. The one that truly represents you and with which you feel most comfortable. Let it be your real brand. And then at the end, finish with a high state that leaves the sensation of more.
It is important to know how to put one next to the other to create an intelligent contrast that showcases your versatility and range. Both clients and listeners have short attention spans. You must be able to convey a LOT in very little portions of time. We are talking about a lot of money invested in advertising, and if the voice is not able to engage the listeners immediately, that money is just gone.
You can have other Voice Over Demo Samples on the side to provide for specific categories when needed. In Audiobook, for instance, the structure I just gave you does not work. In Audiobook, they need to listen to at least 6min of recording, in order to get a better idea of your narration.
HOW MUCH DOES A VOICE OVER DEMO PRODUCTION COST?
Hmmm… You might be excited so far. And you might pull your hair with what's coming. But I want to ask you first:
Did you study a previous career? If so, can you account how much you spent in your tuition, material, transportation and so on?
Well, you might've heard that Voice Recording Service gives great rewards, but only if you're very good at it. And in order for you to hit nice Voice Over Artist Rates, there is indeed an investment to make, and being a Cheap Voice Talent might match in the equation, only if you want to sell a Cheap Voice Over Service.
You can get Voice Over Demo Production for $350 dollars. But then the quality might not be what you expected and chances that you are rejected are on the table.
In the United States, people charge for their work, the hours invested. If you want a great demo and, most of all, feel free to ask for changes and have personalized direction for a high end Demo, your demo will cost US$1,200 to $2,500 in average.
If you check the Voice Over Talent Rates, you will see that your investment will come back to you multiplied! So rely on the Voice Over Production Companies to walk you through it.
…ARE YOU READY TO ROCK YOUR VOICE OVER DEMO PRODUCTION?…